The Acts
Rola-Case

The Case act is the only balancing act of its kind in the entire world. Not only does Monsieur Chapeau pile up his boards and barrels in a world-class manner, he also overcomes the additional difficulty of a wobbly base!

He skilfully builds his cases into a pedestal, on which he balances on up to five barrels at the same time. But there is more, as he juggles, virtually without effort and jumps off with a somersault. Standing on top of this wobbly construction, made out of cases, boards and barrels, Monsieur Chapeau does a handstand and shows just how difficult jumping rope can be.

The audience gasps as some (or all) of the cases simultaneously collapse. "Was it by accident or on purpose?" Will be the question on everyone's mind. Monsieur Chapeau can keep a secret. He puts on a slightly mischievous smile and continues to defy all laws of gravity to the delight of his audience
Video | Technical Requirements [PDF]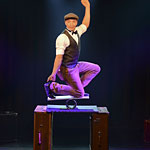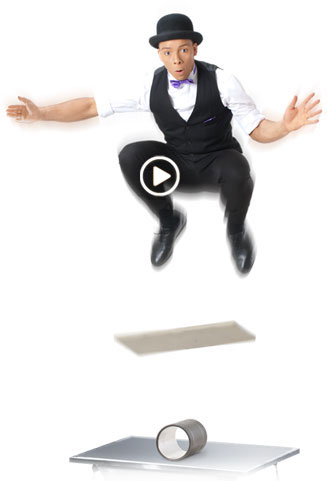 Rola-Table

The African native artist, Monsieur Chapeau, rises bit by bit into the air, while keeping perfect balance on his unsteady boards and barrels. You will be able to experience the spirit of the Cuban Buena Vista Social Club through his charismatic appearance and the music. Witness, how Monsieur Chapeau playfully captures his audience by storm.

In his act, he draws upon the entire spectrum of artistry. He juggles and jumps rope while balancing on his Rola-Rola. Regardless of whether he does a handstand on his Rola or jumps off of it with a somersault, Monsieur Chapeau is always in control of this extremely unsteady artistic prop. Even a bowling ball has its place in this unique performance.

To finish his breathtaking balancing act, Monsieur Chapeau masterfully conquers five barrels which have been stacked to a highly unsteady tower.